10 week Business
Accelerator Program
Are you an ambitious entrepreneur looking to transform your business dreams into reality? If you are starting a new business and envision making a positive difference in the world, then The 10-Week Business Accelerator Program is tailor-made for you!
September 5th- November 14th, 2023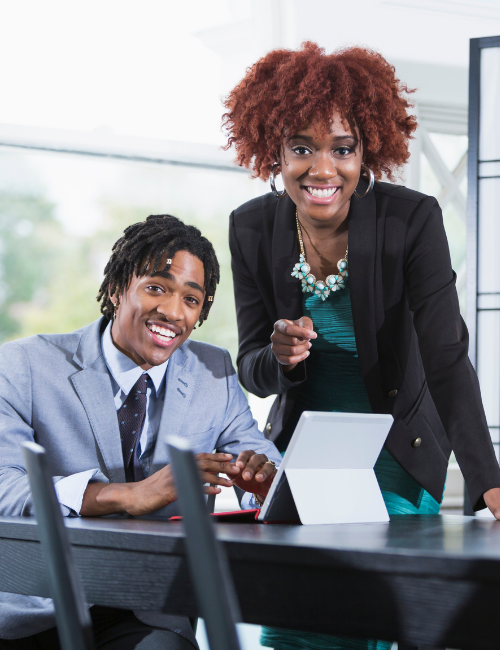 Why Join The 10-Week Business Accelerator Program?
Novation Lab, a community-based incubator, is proud to partner with Elite Vivant, a Boutique branding and marketing agency, to offer this exclusive opportunity to entrepreneurs residing in the city of San Francisco, CA and beyond. 
During this immersive 10-week journey, we will guide you through a transformative experience, helping you unlock your business's full potential. Whether you have a groundbreaking idea or are seeking to amplify your existing venture, our comprehensive accelerator program will provide you with the tools, knowledge, and resources needed to thrive in today's competitive market.
You must be a resident of San Francisco, CA ( To verify, you must visit our Novation Lab at 5813 Mission St, San Francisco, CA 94112)

You must attend all scheduled webinars/workshops and complete all homework assignments.

You must register your business as a DBA or an LLC. If you haven't already. 

Inactivity will revoke your scholarship and access to our online Community. 
Support During the Program
Access To the Novation Lab (San Francisco, CA) to complete the homework assignment

Access to our online Community

Progress Reports to ensure you are staying on track with completing to program.
After You Complete The Program
You will enter our Giveaway, where 1 Business Owner will Win a Logo and Website. 

30 Day Support to help you land your 1st client

List of Grants to help you fund the next stage of your business.
Here is a Look at The Topic We will Cover
Getting Started and Defining Your Vision
Market Research & Analysis
Customer Journey and Touchpoints
Creating Consistent Brand Messaging
Website Essentials and Best Practice
Social Media Strategy and Online Visibility
Close Out Session and Giveaway
We invite you to join The 10-Week Business Accelerator Program and embark on a transformative journey that will set your business on a trajectory for success.
We will review the applications by August 31st and notify all applicants of the status of their acceptance into the program via text message and email.
If accepted, you will receive an email with an invitation to our 1st Webinar & Workshop as well as an invite to our online community.